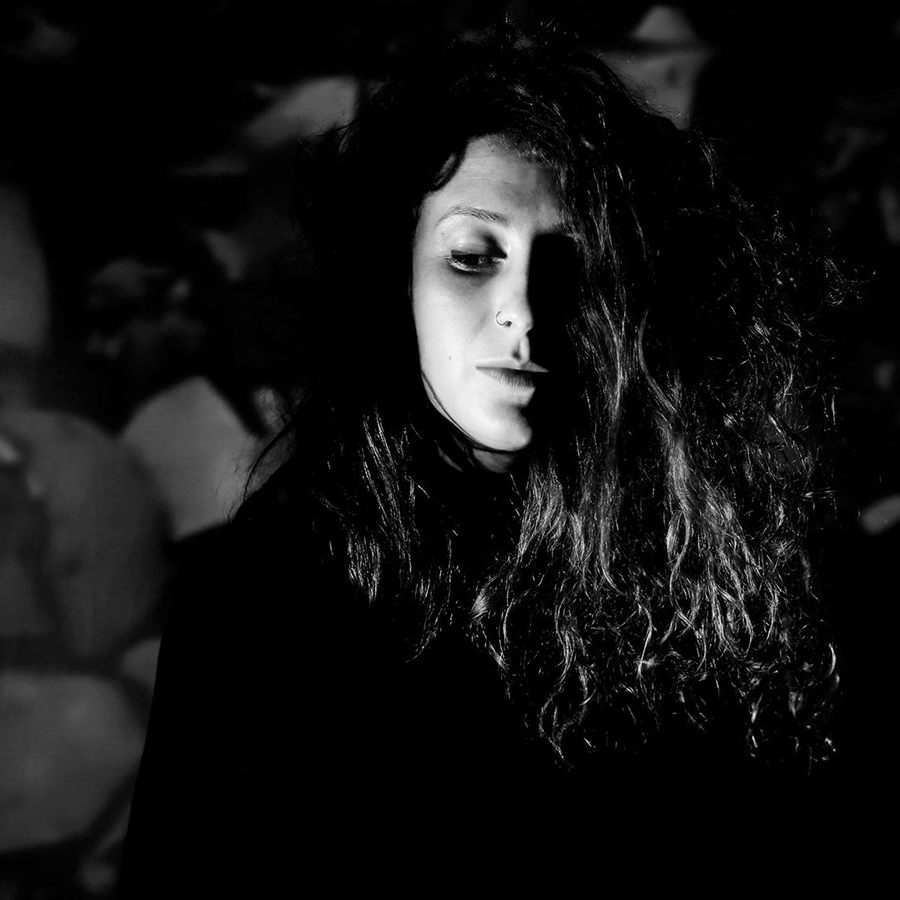 Sophie Le Meillour is visual artist.
Born in Toulouse in 1988, she lives and works in Geneva. Graduate of the HEAD in visual communication, she has explored since 2009 the facets of the image, the line to the movement, in relation to the architecture and the new media and filmic material.
In the form of drawings, photos, videos and installations, she develops an immersive and dreamlike work of her own, which she confronts and willingly hybridises to the musical or visual work of other artists through live performance or exhibitions. Textures are at the heart of her experiences. Sophie explores the different layers of our aesthetic perception of the natural world and collects images, which she transforms into new visual entities. It defies traditional artistic dichotomies like organic versus artificial art and analog versus digital. In her work, she raises questions about how we view nature's ideas as abstract, inviting us to question them and absorb alternative visions.
With her live visuals , Sophie performed in many spaces such as at Mapp_Mtl in Montreal, Rote Fabrik in Zurich, LaVallée de l'image in Brussels, YOYO – Palais de Tokyo in Paris, Urban Spree in Berlin, Time Warp in Mannheim, Knockdown Center in NYC, also in Australia and Ecuador.
Sophie has given talks in Boston, in Melbourne, in Zurich and in Geneva. Currently , Sophie gives workshops on Mapping and Vjing software in Geneva.
Co-founder of TELOMERES Studio with the digital artist Fabrice Starzinskas based in Paris. Their first project, "APOPTOSE" a 360 ° experimental short film for a projection dome adapted to VR. In 2017, it won the Best Dome Film Award by Swissnex Boston and the GIFF Festival. Since then it has been presented at Swissnex China, HeK Museum Basel and Flux Laboratory Geneva. In April, they began a residency with researchers at BIOTECH, the neuroscience campus in Geneva.  
Sophie is now represented by artistic agent Aurélie Vial based in Montreal.
Portrait by Marilou Rose Jarry 
SOPHIE LE MEILLOUR née en 1988 à Toulouse, est une artiste visuelle plasticienne basée à Genève. Diplômée de la HEAD en communication visuelle, elle explore depuis 2009 les facettes de l'image, du trait au mouvement, en relation avec l'architecture, les nouveaux médias et le matériau filmique. Sous forme de dessins, photos, vidéos, et d' installations, elle développe un travail immersif et onirique qui lui est propre, qu'elle confronte et hybride volontiers au travail d'autres artistes. 
Les textures sont au cœur de ses expériences. Elle explore les différentes couches de notre perception esthétique du monde naturel et collecte des images, qu'elle transforme en nouvelles entités visuelles. Elle défie les dichotomies artistiques traditionnelles comme l'organique contre l'art artificiel et l'analogique contre le numérique. Dans son travail, elle soulève des questions sur la manière dont nous envisageons les idées de la nature la rendant abstraite, nous invitant à les interroger et à absorber des visions alternatives.
Avec ses projections live / VJING, Sophie a performé dans de nombreux espaces tels qu'au Mapp_Mtl à Montréal,  la Rote Fabrik de Zurich, laVallée de l'image à Bruxelles, YOYO – Palais de Tokyo à Paris, Urban Spree à Berlin, Time Warp à Mannheim, au Knockdown Center à NYC , également en Australie et en Equateur.
Co-fondatrice du studio TELOMERES avec l'artiste numérique Fabrice Starzinskas basé à Paris; ils ont crée "APOPTOSE" : un court métrage expérimental à 360° pour un dôme de projection et adapté en VR. En 2017, il a remporté le prix du meilleur film dôme par Swissnex Boston et le GIFF Festival. Depuis, il a été présenté à Swissnex China, au HeK Museum de Bâle et au Flux Laboratory de Genève. En Avril, ils ont commencé une résidence avec des chercheurs au sein de BIOTECH, le campus des neurosciences à Genève.
Sophie est à présent représentée par l'agent artistique Aurélie Vial basée à Montréal.
Portrait par Marilou Rose Jarry