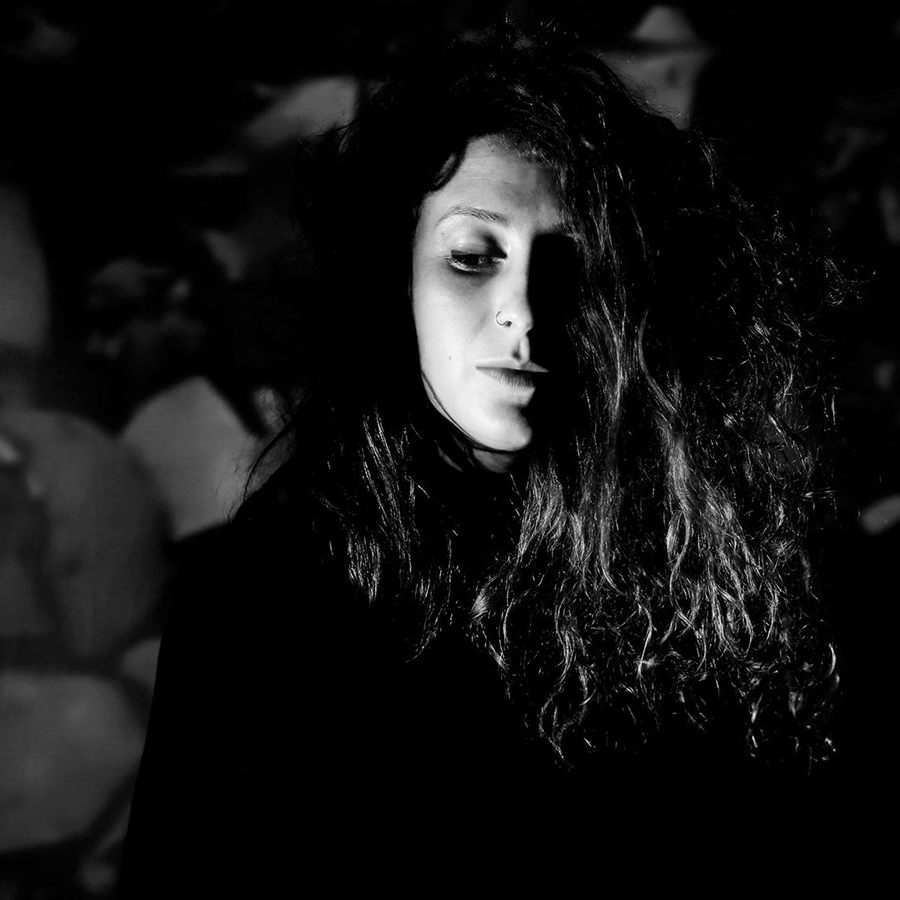 Sophie Le Meillour is a visual artist transmedia in freelance.
Born in Toulouse in 1988, she now lives and works in Geneva. A graduate in visual communication from the HEAD school of Art in Geneva, since 2009 she has explored  the facets of the image, the line to the movement, in specific relation to architecture, the new media and filmic material.
In the form of drawings, photos, videos and installations, she develops an immersive and dreamlike work of her own, which she confronts and willingly hybridises to the musical or visual work of other artists through live performance or exhibitions. Textures are at the heart of her experiences. Sophie explores the different layers of our aesthetic perception of the natural world and collects images, which she transforms into new visual entities. It defies traditional artistic dichotomies like organic versus artificial art and analog versus digital.
With her live visuals, Sophie has performed in many spaces and festivals such as: WV Arena in Istanbul, Knockdown Center in NYC, Mapp_Mtl in Montreal, Lost Paradise in Sydney, Lost Beach in Ecuador, Urban Spree in Berlin, Time Warp in Mannheim, LaVallée de l'image in Brussels, YOYO | Palais de Tokyo in Paris, La Sucrière in Lyon, Rote Fabrik in Zurich, Zoo in Geneva.
In 2017, she co-founded Telomeres with the creative technologic artist Fabrice Starzinskas, a creative studio exploring media arts through natural systems.
Their first project was "APOPTOSE", a 360 ° experimental short film for a projection dome adapted to VR. In 2017 it won the Best Dome Film Award by Swissnex Boston and the GIFF Festival. Since then it has been presented at Swissnex China, HeK Museum Basel and Flux Laboratory Geneva. In April they realized a residency at BIOTECH, the neuroscience campus in Geneva. 
In 2018, she joined the ATRAP collective with the Berlin mural artist Robin Kowalewsky. ATRAP oscillates between analog and digital, combining muralism with projection mapping. At their 3rd chapter, they exhibited in Berlin, Brussels and Geneva. Their next exhibition will be in 2021 in Santiago de Chile, where Robin now resides.
Sophie has given talks her expertise in Boston, Melbourne, Zurich and Geneva. Currently she is running workshops on Mapping and Vjing softwares in media art school. In 2020 she joins the Mapping Festival's team in Geneva.
With the pandemic, Sophie works as a volunteer to create a new video campaign for MATER Fondazione that gives 200 meals for free everyday in Geneva, The project created by the Italian chief Walter El Nagar is in collaboration with Pavillon (music) Jimmy Thiebauld (found) Marilou Rose Jarry (digital communication) and Pascal Viscardi (strategy).
Portrait by ©Marilou Rose Jarry 
Sophie Le Meillour est une artiste visuelle transmédia, indépendante.
Née en 1988 à Toulouse, Sophie vis et travaille à Genève. Diplômée de la HEAD en communication visuelle, elle explore depuis 2009 les facettes de l'image, du trait au mouvement, en relation avec l'architecture, les nouveaux médias et le matériau filmique. Sous forme de dessins, photos, vidéos, et d' installations, elle développe un travail immersif et onirique qui lui est propre, qu'elle confronte et hybride au travail d'autres artistes. 
Les textures sont au cœur de ses expériences. Elle explore les différentes couches de notre perception esthétique du monde naturel et collecte des images, qu'elle transforme en nouvelles entités visuelles. Elle défie les dichotomies artistiques traditionnelles comme l'organique contre l'art artificiel et l'analogique contre le numérique. 
Avec ses projections live / VJing, Sophie a performé dans de nombreux espaces et festivals tels que le WV Arena à Istanbul, Knockdown Center à NYC, Mapp_Mtl à Montréal, Lost Paradise à Sydney, Lost Beach en Equateur, Urban Spree à Berlin, Time Warp à Mannheim, LaVallée de l'image à Bruxelles, YOYO | Palais de Tokyo à Paris, La Sucrière à Lyon, Rote Fabrik à Zurich, Zoo à Geneva.
En 2017, elle co-fonde avec l'artiste digital Fabrice Starzinskas : Telomeres, un studio de création explorant les nouveaux médias à travers les systèmes naturels.
Leur premier projet, "APOPTOSE", un court métrage expérimental à 360 ° pour un dôme de projection adapté à la VR. En 2017, il a remporté le meilleur court métrage par Swissnex Boston et GIFF Festival. Depuis, il a été présenté à Swissnex China, au HeK Museum Basel et au Flux Laboratory à Genève. En avril, ils réalisent un mois de résidence à  BIOTECH, le campus de neurosciences de Genève.
En 2018, elle rejoint le collectif ATRAP avec l'artiste muraliste berlinois Robin Kowalewsky. ATRAP oscille entre analogique et numérique, combinant le muralisme à la projection mapping. À leur 3ème chapitre, ils ont exposé à Berlin, Bruxelles et Genève. Leur prochaine exposition sera en 2021 à Santiago du Chili, où réside à présent Robin.
Sophie a donné des conférences à Boston, Melbourne, Zurich et Genève. Actuellement, l'artiste visuelle donne des ateliers sur les logiciels de mapping et de Vjing dans plusieurs écoles de média design.  En 2020, elle rejoint les membres du Mapping Festival, à Genève.
Avec la pandémie, Sophie travaille en tant que bénévole pour créer une nouvelle campagne vidéo pour MATER Fondazione qui donne 200 repas gratuits chaque jour à Genève, Le projet créé par le chef italien Walter El Nagar est en collaboration avec Pavillon (musique) Jimmy Thiebauld (trouvé ) Marilou Rose Jarry (communication numérique) et Pascal Viscardi (stratégie). La sortie est prévue en Décembre !
Portrait par ©Marilou Rose Jarry